DGRule Invisible Hub for MacBook
Review from Unbox Therapy
Hands-on from 9to5mac
DGRule invisible Hub review: disappears under the MacBook Pro
https://www.macitynet.it/recensione-dg-rule-invisible-hub-scompare-sotto-il-macbook-pro/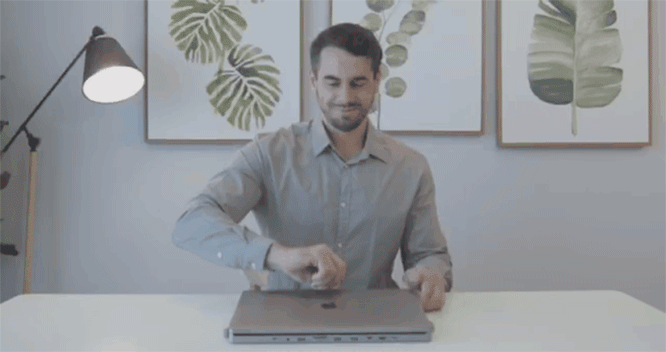 DGRule in the Press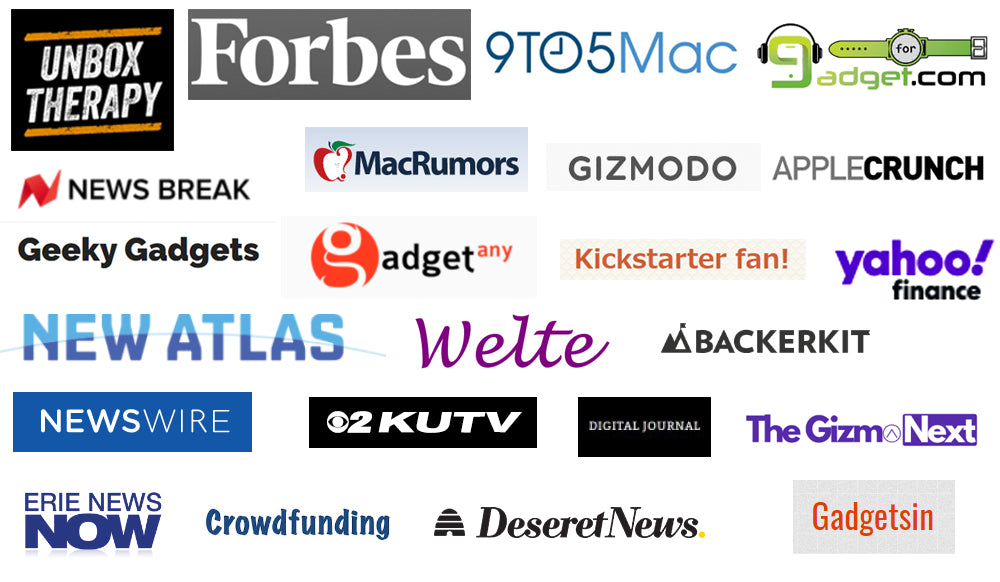 New 16" MacBook Pro is the best ever, but you may realize the limitation of Thunderbolt 3 USB-C ports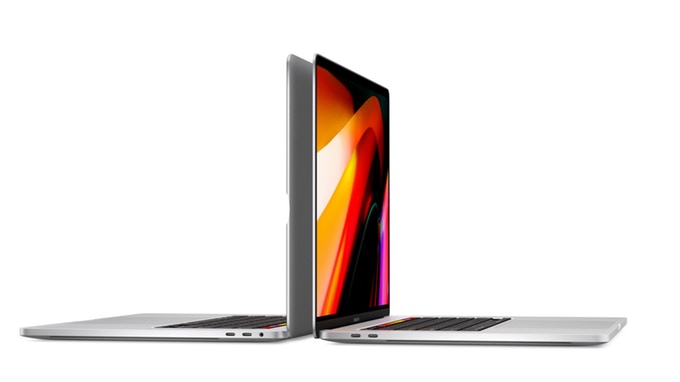 The new Thunderbolt 3 USB-C ports still doesn't work with some devices. You need a dongle for everything!

Introducing DGRule Invisible Hub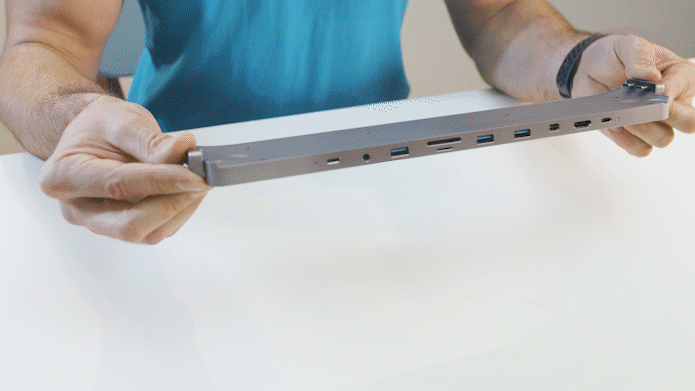 Worldwide Patent Pending

The world's first invisible USB-C hub for MacBook Pro

Lightweight, portable, convenient and invisible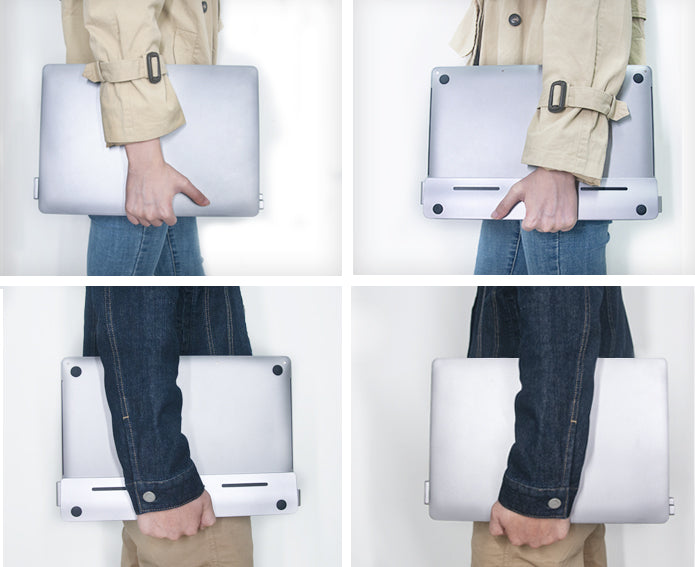 Invisible design provides multiple functions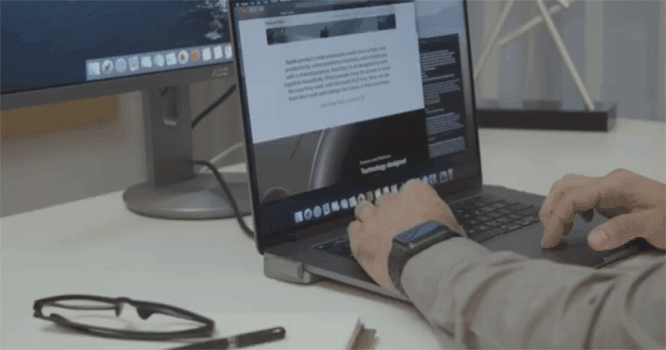 Engineered for discretion, DGRule is an invisible hub for all your cords. This gives you dongle-free working space where cables can be seen uncluttered.
The 1st hub designed specifically for the 16" MacBook Pro
Compare with other dongle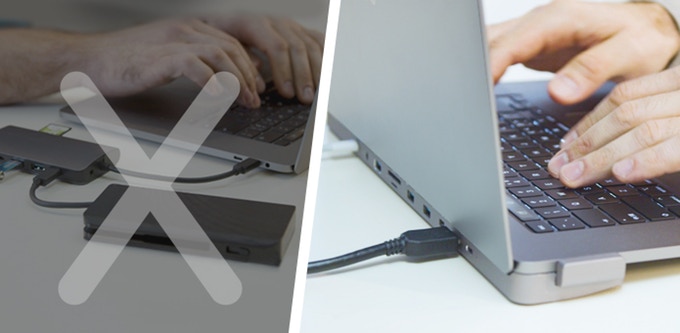 Compare to other multiple adapters in the market, it can serve multiple connections simultaneously without creating a mess, connecting to the back of your MacBook.
Replace all other dongles with DGRule Invisible Hub
The multi-tasking hub also has a
firm stability

feature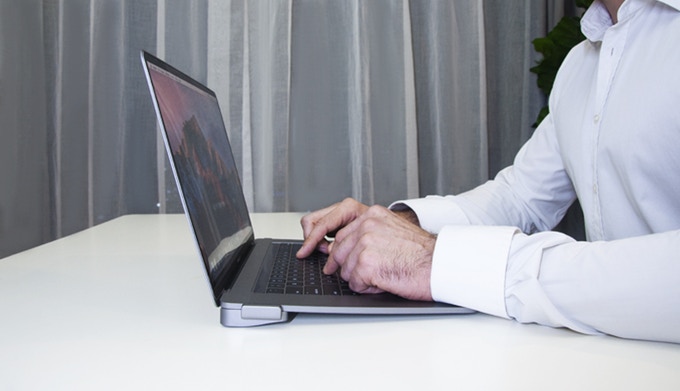 Works perfectly on the table and laps
Just simply snap the DGRule on both sides of MacBook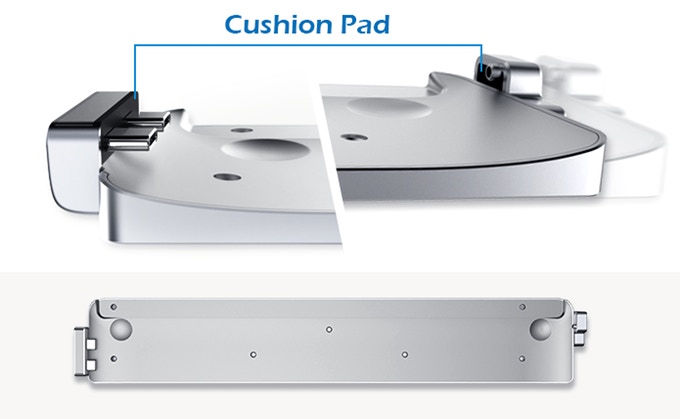 DGRule will not tip over. Snapping into both sides of your MacBook Pro (two Thunderbolt 3 and audio ports), it will stay in place as you need it to so that you can focus on getting your work done, not on keeping your devices plugged in.
Made from CNC
aluminum, extremely durable and reliable
Easy pick and go anywhere with DGRule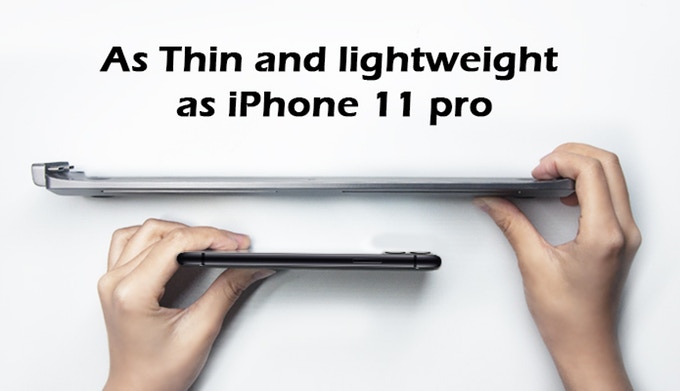 The sleek and slim design also fits your MacBook Pro avoiding the hassle of putting it inside your bag.
The

most compact & portable Thunderbolt 3 USB-C hub
Simultaneously connect your Thunderbolt 3, HDMI display, USB-C, Mini DP, 3 x USB 3.1 Gen 1, micro SD, SD, and headphones. All while charging 100W at full speed thru DGRule Invisible Hub.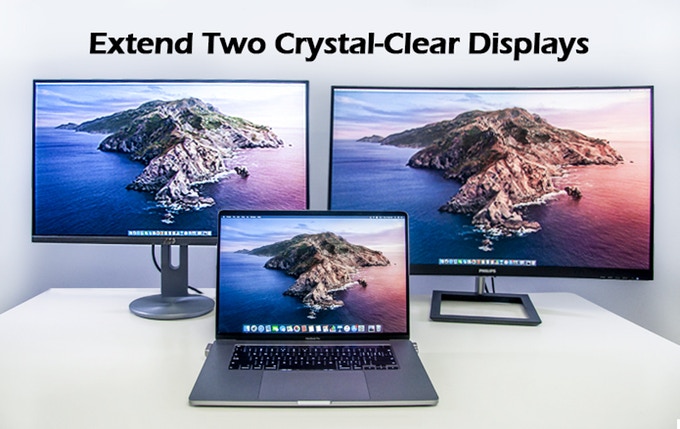 DGRule can reach up to 40 Gb/s

data speed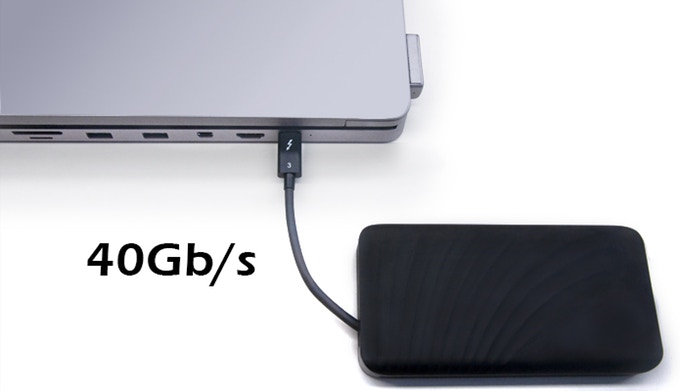 All while charging your MacBook Pro with 100W power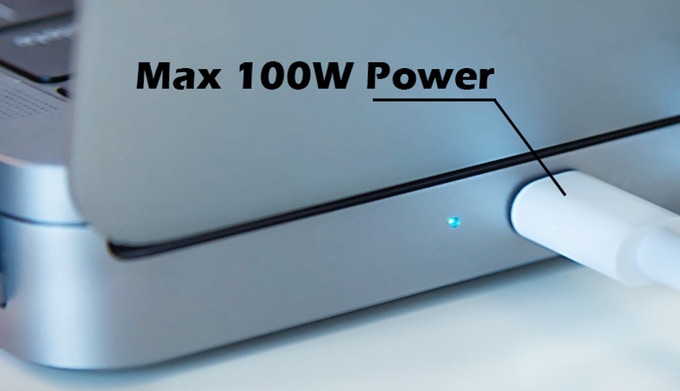 The built-in cooling pad prevents DGRule from overheating
The built-in cooling pad prevents DGRule from overheating, so you can use it for hours, days, or weeks on end. This will come in handy considering DGRule's 100W power delivery.
Perfectly fits
16"/15"/13" MacBook

Pro 2019/2018/2017/2016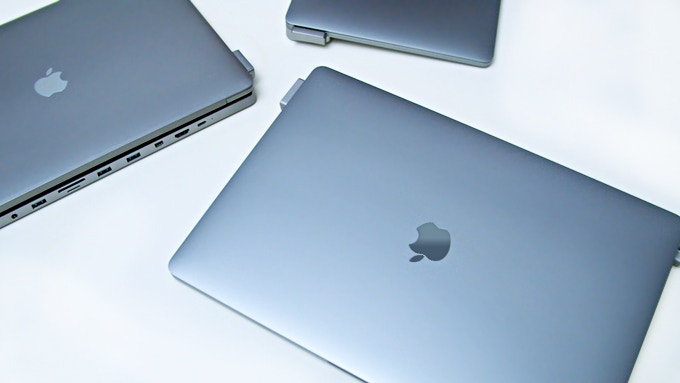 Aluminum enclosure color matches to Space Gray and silver MacBook Pro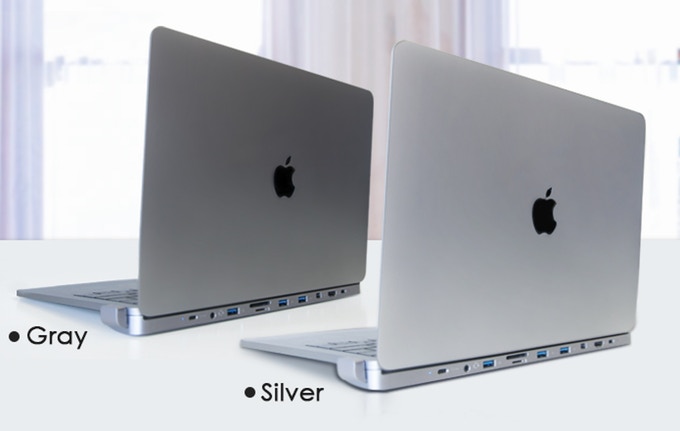 Take DGRule anytime and anywhere, you don't even notice it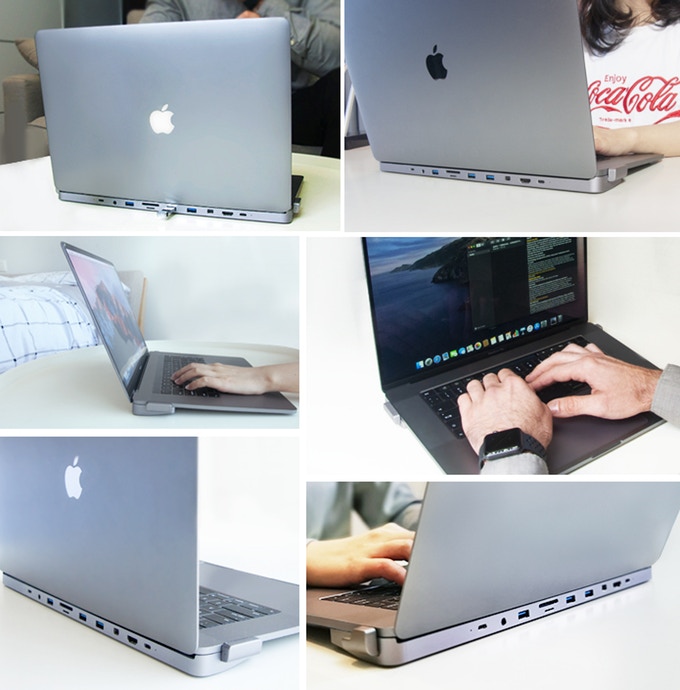 The most compact and portable hub
Test of the DGRule
The following unbox video presents a fully functional prototype of DGRule invisible hub with all ports working (HDMI display, Thunderbolt 3, USB-C, SD, microSD, USB flash drive & hard drive).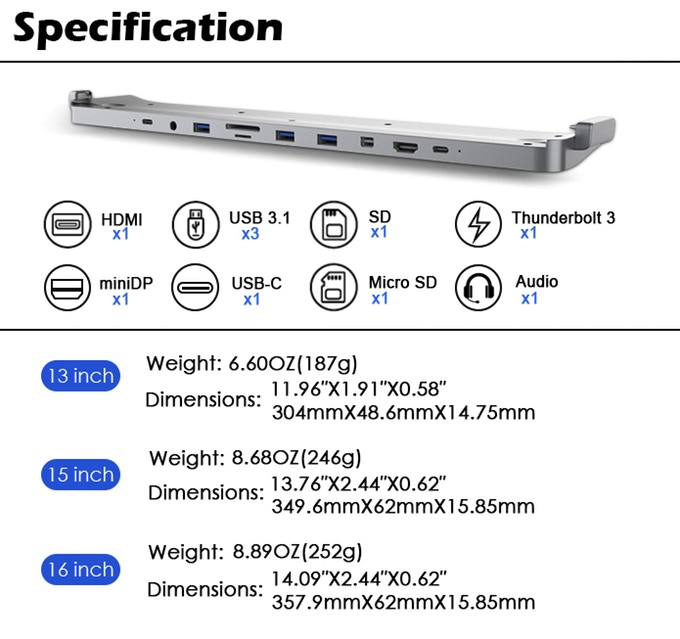 Input:

2 x Thunderbolt 3 USB-C
 

Output:


                        - 1 X HDMI/1 X MiniDP: resolution is 4K@30Hz max, Support MST and SST, Support 4K/2K for simultaneous use.
                        - 1 X Thunderbolt 3: up to 6K ( max ) or 2 X 4K@60Hz Video Up to 40 Gb/s data speed Max 100W Power Delivery pass through charging.
                        - 1 X USB-C: supports charging, PD3.0, Max 100W and support USB-C 3.1 Gen1 5Gbps data transfer, from Docking output (the max output is share 5V/1.5A).
                        - 3 X USB3.1 Gen 1: transfer rate is 5Gbps. Output is total share 5V/1.5A. Can work with 3 USB flash disk or can work with 1 hard disk + 2 USB flash disk.
                        - 1 X SD/ 1 X Micro SD: supports SD/SDHC/SDXC, SD3.0 UHS-1 with speed up to 104Mb/s, both Micro and SD ports can work simultaneously. Max card reading capacity is 512G. 
                        - 1 X Audio: stereo output and Mic input, 3.5 Audio plug.
 

Case

Material:

CNC anodized aluminum enclosure
 

Color:

Space Gray & Silver
To say thanks to our contributors, we are offering DGRule here first – giving you early access to our world-class hub.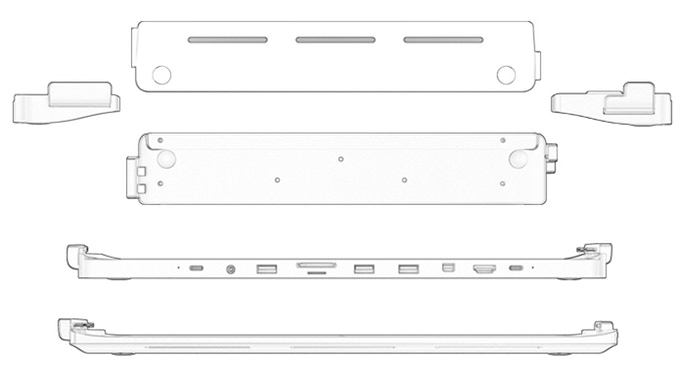 Colors

DGRule will be available in Space Gray or Silver color. Once the campaign ends, we will send out a survey asking you to select the color and size of your DGRule (Space Gray / Silver; 16"/ 15"/ 13").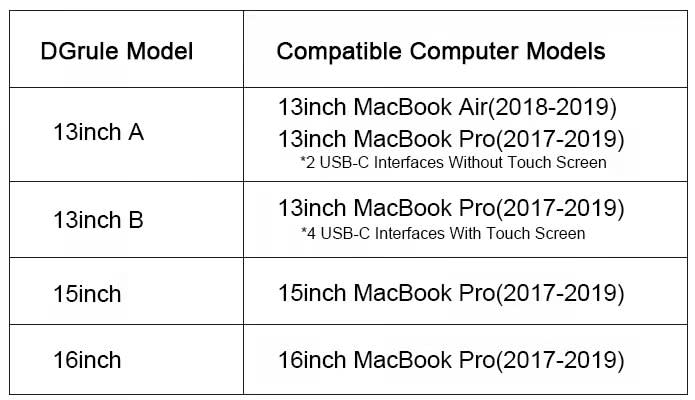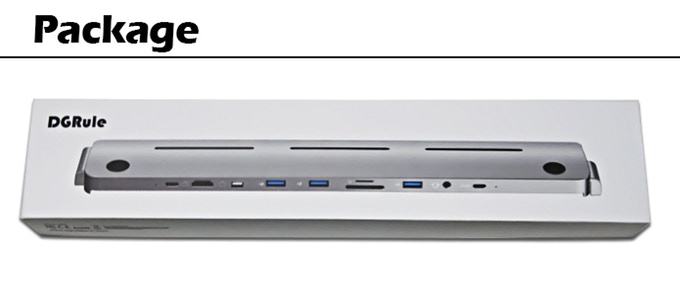 DGRule on CES2020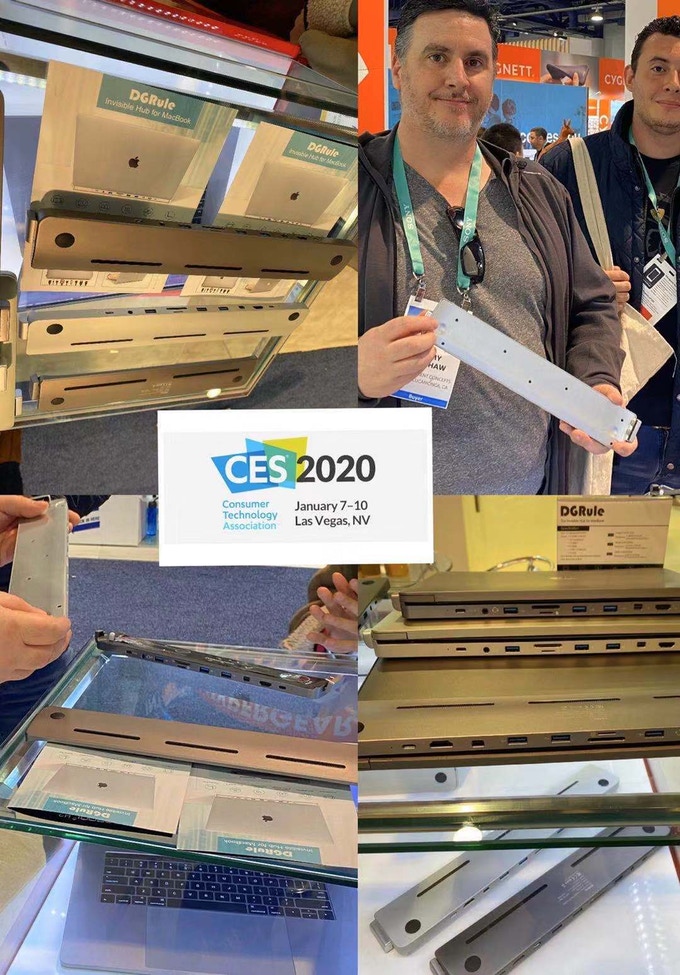 Spread the Word!
In addition to making a monetary contribution to this campaign, go ahead and tell your fellow Apple fans about DGRule. This is a hub that all MacBook Pro users should know about, and you can help us with that in a big way.
We appreciate all your support, monetary and non-monetary alike, and we thank you for taking the time to read about what we are doing.

Contact us: hi@dgrulehub.com